A Superior Man (autumn 2015)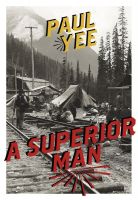 View the video trailer at https://www.youtube.com/watch?v=n5dz96EKDY4
From the book's front and back flaps:         
          After the Canadian Pacific Railway is built in 1885, Yang Hok, a former coolie, treks along the railway to return his half-Chinese/half Native son to the boy's mother and confronts the conflicts arising from road-building among the Chinese and Native peoples. Hok's guide on the often perilous trip, Sam Bing Lew, also of mixed Chinese-Native blood, urges Hok to take his son to China, while Hok has dreams of finding fortune in America. The two men agree on little, as many issues fester between Chinese and Natives at a time when both races were disdained as inferior by whites ("redbeards").
          This far-reaching novel crackles with the brutal, visceral energy of the time-a period marked by contraband, illegal gambling, disfigurement, and death. It also depicts the bawdy world of Chinese "bachelors," whose families remained in China while they worked in Canada, and who enjoyed more freedom to live their lives without restraint. Yang Hok is not an easy man to like; but through the blood and sweat of his experience, he aspires to become the "superior man" he knows he should be.
          Boldly frank and steeped in history, A Superior Man paints a vivid portrait of the Chinese Canadian experience in the 19th century..
From the book's back cover:
"Paul Yee's adrenaline-fueled story is life lived on a knife's edge--sometimes literally--in telling what a Chinese railway
coolie intends to do days before returning to China: deliver his young son, of mixed Chinese-Native blood, to the boy's
mother. Set in a time of lawless attitudes bred of racism, not just against the Chinese but also against Natives and
those of mixed-blood, A Superior Man brings to life a coolie's daily travails, where the weight of expectations of those
he's left behind in China and the fear of failure blur the line between honor and treachery. Above all, Paul Yee
has made an important and valuable addition to the historical record of the Chinese coolie's role in
the bulding of the national railway, helping to right a wrong of omission of more than a century."
Denise Chong, author of The Concubine's Children and Lives of the Family


"Miraculously, Paul Yee is able to take the often ugly facts of History and its movers and shakers, its peons and oppressed, and weave
an epic tapestry of unforgettable (because realistic) personalities, detailed dilemmas of love in a time of cholera
and anti-"coolie" history, and vivid recreation of migrant, Chinese overseas culture--and Sino-Anglo
speech... Kudos to Paul on his successful revelation of the Native and Chinese struggles
and survival that give Canada, even now, a cosmopolitan citizenry. Likenesses?
Think Garcia Marquez in scope, but Hemingway in directness. A Superior Man is a superb novel."
George Elliott Clarke, author of Whylah Falls and George & Rue


"A Superior Man is the work of a first-rank storyteller. In it, Paul Yee brings to life the Chinese railway experience in 19th-century
British Columbia with an impressive attention to detail and understanding of Chinese culture. His re-telling of the
Immigrant experience is taut, visceral, and ultimately redemptive."
Kevin Chong, author of Baroque-a-Nova and Northern Dancer


"Paul Yee's A Superior Man is a superior foray into historical fiction. The book traces with poignant acuity one of the
most hidden contact zones of Chinese Canadian experience. As Chinese railway labourers and gold seekers
along the Fraser River encounter Red Beards and Natives, their hybrid and racialized mashups display the 
raw undercurrents framing this colonized land. The storytelling reveals how colonial encounters get staged
in an interactive and improvisatory drama of miscegenation and immigrant desire. Paul Yee has
given our memory a great gift through his incisive research into this hyphenated space, including
his delightful use of the poetics of the proverbs underlying the Chinese-Canadian imagination.
Fred Wah, Canada's former Parliamentary Poet Laureate


"A riveting story and fitting tribute to the harsh and complex lives of Chinese railroad workers as told by a master storyteller
with an impressive knowledge of Chinese and Native Canadian history, literature, and culture. The novel is
full of Chinese proverbs and graphic language, and rich with detailed descriptions of places, people, and
events. A most enjoyable and informative read."
Judy Yung, Professor Emerita of American Studies, University of California, Santa Cruz
<< Back to list page
-